Where ideas are growing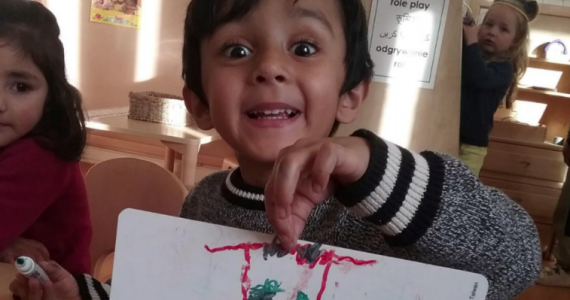 Research on early years arts and culture in Yorkshire and the Humber, for CapeUK
Great opportunities for young children to experience arts and culture are peppered across Yorkshire and the Humber, according to a new review of Early Years arts and culture in the region. But these opportunities are far from equal and, with huge pressures on arts budgets and young children services, the solutions will need to be highly resourceful and collaborative.
The study – "Where Ideas are Growing" – by CapeUK, the Arts Council England 'bridge' organisation for Yorkshire and the Humber, highlights many examples of innovative, excellent and effective practice by Early Years providers and arts organisations and practitioners across the region.
However, it warns that children's creative development is being negatively affected by lack of skills, understanding and connectivity in different areas and the cuts in funding for local authorities' Early Years support.
The report calls for:
• Better regional networking to share know-how and the benefits of arts and cultural activities and experiences for Early Years children
• Support for all Early Years providers and arts and cultural organisations to develop understanding of young children's creative development and how their own ideas and experiences can support that development
• Closer working with local communities to co-create arts and cultural experiences 'with' them as well as just 'for' them to encourage more families and younger children to get involved.
Sarah Mumford, CapeUK Programme Director, said the report showed there were opportunities for arts and culture to support Early Years children's learning: "Despite the difficulties of funding in recent years, those arts and cultural organisations which believe in and understand Early Years are finding innovative ways to make exciting creative learning experiences for young children.
"The majority of Early Years settings judged outstanding by Ofsted have a strong arts and cultural provision so we need to support others to use new opportunities such as the effective use of Early Years Pupil Premium to achieve that outstanding provision."
One of the report's authors, Ben Sandbrook, from World Pencil, added "In many ways Yorkshire and the Humber leads the way in pioneering innovative, resourceful and child-oriented approaches to supporting young children's ideas and cultural experiences. Particularly in austere times such as ours, in almost every case it is the belief and determination of committed individuals that turns aspirations into reality, despite the obstacles. If you're one of these people, please keep innovating, connecting, sharing, listening and finding new ways to harness what resources are available: there are few greater gifts to childhood than the opportunity to learn through developing your own ideas."
Among the good practice highlighted in the report is McMillan Nursery School in Hull. They have been working closely with artists in the city and beyond for many years and one of their artists-in-residence, Alex Hallowes, is now Chair of Governors, putting arts and culture at the centre of their provision. 
The school is also working on "The Sixteen Thousand" a Hull 2017 City of Culture project which will engage the city's 200 Early Years settings and 16,000 young children under five to create clay bricks shaped and textured by each child's hands, ideas and imagination. The bricks will then be used to create art a huge public installation which will make the city's young children visible to everyone as part of the City of Culture celebrations.
Headteacher Andrew Shimmin from the school said: "Our involvement with creative practice and practitioners over the years has had a huge impact on the ethos of our school and on our everyday practice. I believe that when Creative Practitioners and Early Years Practitioners can develop real partnerships of shared learning and understanding around the experience of young children, it can result in work which is really inspirational. Working together with different artists, we have found that we can help young children engage with different types of arts practice in ways that are really relevant to them and which support and extend their learning in all directions. At the same time this can help adults to understand, articulate and advocate for young children's right to their own unique and individual experience of the world."
Midland Road Nursery School in Bradford has also been highlighted in the report for its work in running a series of creative projects and interactions with practitioners. 
These have included visits from authors and musicians and trips to art galleries. Children have also worked with a metals artist as part of the creation of a sculpture next to Bradford City Football Club.
Headteacher Sharon Hogan, said: "The most effective teaching and learning always includes an element of creative and cultural practice – it is this that allows the curriculum to meet the needs of each child. 
"This is nothing new in education and it seems more important than ever to hold onto this – the new Local Cultural and Education Partnerships being established across Yorkshire and the Humber will play a key role in supporting children, practitioners and families to both use and get involved in the Arts."
The report was researched and written by Ben Sandbrook of World Pencil and Ruth Churchill Dower of Earlyarts. 
It will be used as part of CapeUK's regional 'bridge' role to help support work with Early Years children across Yorkshire and the Humber as well as informing national development in Early Years provision.